Read the original article by Alex Ruppenthal at news.wttw.com here.
Nicole Quattrocki has long been frustrated with what she and other animal welfare advocates consider a lack of financial and political support for Chicago's municipal-run animal shelter. But she reached a tipping point earlier this year after meeting Susan Russell, the former head of Chicago Animal Care and Control who was fired by Mayor Rahm Emanuel in June after refusing to resign.
"How is it that this amazing human being that has done so much in terms of saving lives gets fired?" Quattrocki said, referring to the decrease in euthanized animals at CACC under Russell, whose firing drew sharp criticism from many in the city's animal welfare community. "Why did this happen?"
Quattrocki, a marketing professional and artist who donates money from her painting sales to animal rescue and shelter efforts, took action by creating a group that aims to end the killing of shelter pets in Chicago.
According to its website, Fix Chicago 2019 seeks to reform "outdated policies, procedures and laws affecting the ability of nonprofits and the municipal shelter to save the lives of homeless pets."
The group's first task is taking inventory of where candidates running for city office in 2019 stand on various animal welfare issues. Jackie McClellan, a financial analyst who is serving as Fix Chicago 2019's executive director, said the group has sent a questionnaire to all mayoral candidates and plans to send the survey to those running for alderman.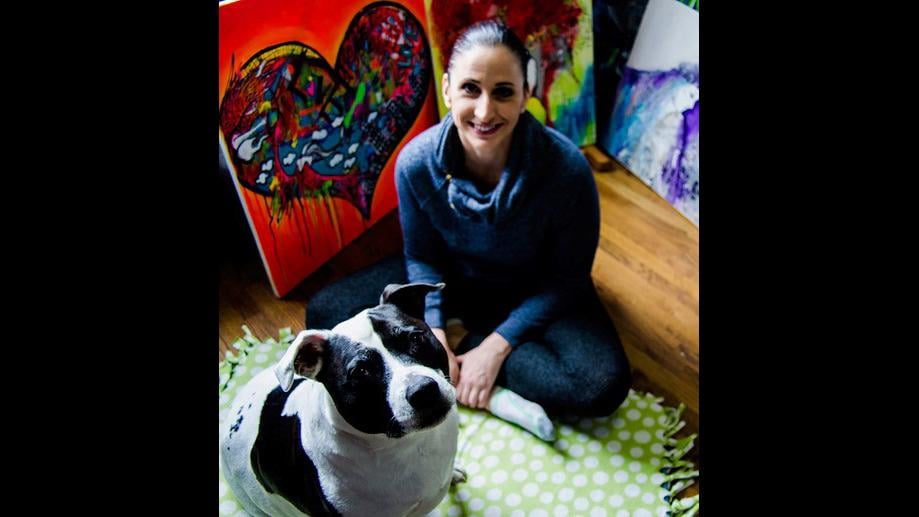 Nicole Quattrocki with her pitbull Gigi. (Courtesy Nicole Quattrocki)
Initial responses show that some mayoral candidates lack knowledge about the city's animal shelter, Quattrocki said. Of the handful of candidates who have completed the questionnaire, several of them indicated that CACC offers services that in fact are not provided by the department.
"What the [survey] is telling us is that candidates do not understand what's going on," said Quattrocki, the owner of a pitbull who suffered four broken paws while living in a shelter in Kansas.
Quattrocki said Fix Chicago plans to include candidates' responses in an animal welfare information guide for voters that will be published before the Feb. 26 election. (The group will assign "paw ratings" on a scale of one to five.) Organizers are also meeting and interviewing candidates and plan to work with newly elected officials on a strategic plan for improving the city's shelter.
"Politics have played more of a role than they should have when it comes to CACC in the past," McClellan said. "We know people have a million considerations when selecting who to vote for, but we want to be a resource for those concerned about animal welfare issues."
Fix Chicago 2019 is hosting a launch party Jan. 4 that is open to the public.