Farmers and consumers alike are frustrated with high beef prices. Rancher Ben Thomas says the price tag at the grocery store doesn't help with rising costs at his Trenton farm.
Jordan Thornsberry        Oct 27, 2022
When Ben Thomas was 17, he wasn't sure what he wanted to do with his life, but there was one natural choice. His dad was a farmer, whose dad was a farmer, whose dad was a farmer. He was part of the National FFA Organization at Trenton High School. All his life, he helped his family with its cattle and crops. So, when a few farms in their community went up for sale, his dad urged him to buy the one with a little old farmhouse on the property, and he listened.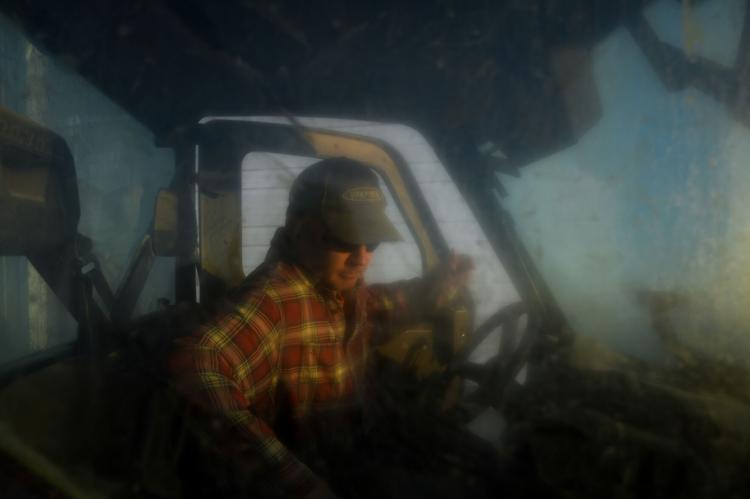 After starting his day before 7 a.m., Thomas gets into his UTV to drop off nutritional minerals in bins around his property. Thomas is the vice president of the Independent Cattlemen of Missouri, an interest group advocating for fair market systems for independent cattle farmers. photo credit
At the time, the 200-acre plot of land cost $1,000 per acre. Thomas says the price today would be "crazy high," around $7,000 to $8,000 per acre. But when he purchased his property in the '90s, he had no idea what the cattle industry would be like today.
Average family meals that incorporate beef are ringing up at higher and higher prices. According to the
U.S. Bureau of Labor Statistics
, beef prices at grocery stores are up as much as 20% since 2020. American beef production is an ever-growing
$79 billion industry
, but Thomas's cut of the cash has not been increasing. Although the cattle themselves are not selling for a higher price, the cost of items needed to sustain a farm has significantly increased.
For Thomas, that high price is not translating into higher profits, nor is it helping him cover the steep expenses of fertilizer, gas and feed. These and other farm-essential costs have gone up exponentially over the past two years.
In March, The New York Times reported the majority of fertilizers in the world have doubled or tripled in price over the past year, as a large portion of the world's fertilizer is stuck in Russia and Ukraine. Russia is the world's top fertilizer exporter.
"Cattle are one of the very few things that are not seeing a bump during this time frame," Thomas says. "But, unfortunately, everything that we need to raise these cattle is in an inflationary period. Everything we need is through the roof."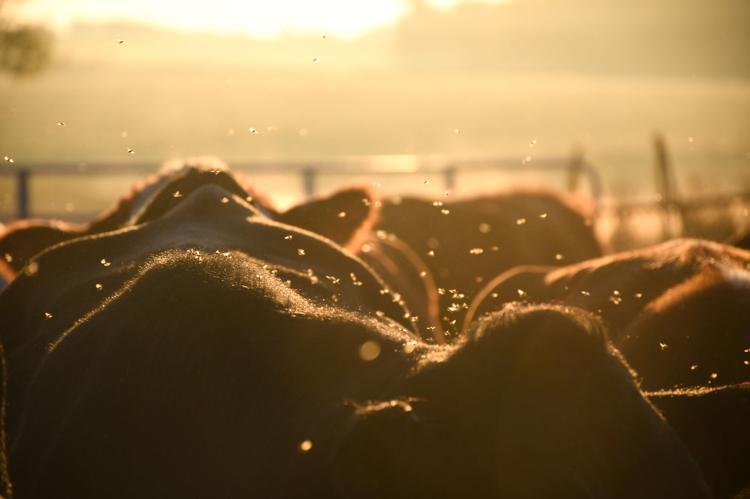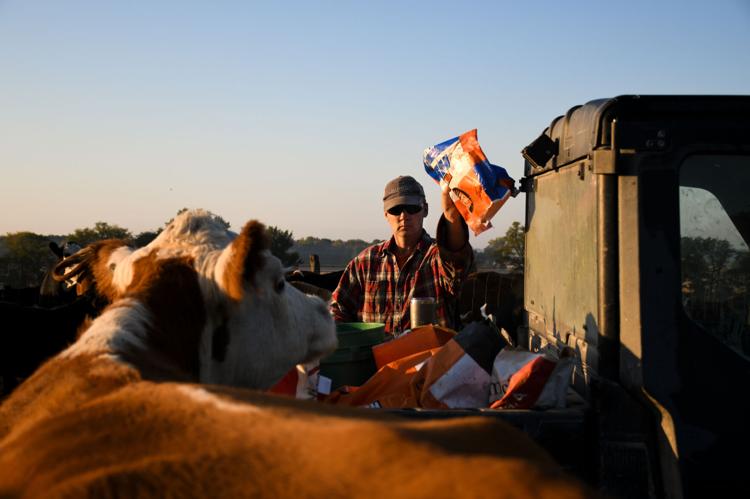 Farm Life
The 45-year-old cattle rancher now works on over 1,000 acres. The farm is located in Trenton, a town a little over two hours northwest of Columbia. It is home to 300 to 400 cattle. Several barns are spread out over the vast land. Besides being a dad, farming is Thomas's full-time job.
Now, Thomas wakes up around 6 a.m. every morning to check on his cattle. He's accustomed to working seven days a week, 365 days a year. In the spring, there usually isn't enough grass for all the cows yet, so Thomas wakes up even earlier to give them feed before spending the day planting corn and beans. After he's done row cropping, usually late at night, he checks on the herd one more time before heading home.
Cattle ranchers spend at least a year raising rambunctious calves on their farms, working to ensure the animals boast the expected health standards and weight ­— 600 to 700 pounds — so they can be sold. Thomas has been selling most of his steers through sale barns, a place to auction livestock in exchange for commission. Each steer goes for $900 to $1,100, and between Thomas, his dad and his uncle, they sell 80 to 100 in the spring and about 200 in the fall.
Like people, cattle have health problems, too. Thomas has learned how to drain abscesses, pull calves during labor, treat prolapses and other medical tasks himself to cut down the cost of vet bills. If he does have to call a vet, he watches the vet closely in hope that he can care for the animals himself the next time. "Veterinarians are highly educated, and they need to charge as much," he says. "You can't afford to be calling the vet very often and have any chance of making any money."
Vet bills aren't the only expense Thomas has to worry about. He expects fertilizer to cost about 30% more this year. Combine that with the fact that his cattle are selling for around the same price as they were last year, and it's the perfect storm for a financial setback.
For many Missouri farmers, all of their hard work isn't paying off anymore. "Where I live, there are not very many cattle left," Thomas says. "People — they're done fighting the fight."
Economic Realities
Scott Brown, director of strategic partnerships for MU's College of Agriculture, Food and Natural Resources, is actually optimistic about the future for cattle farmers. "They're facing very high costs today," he says. "But in my book, they're going to be in a position where cattle prices are going to only get more attractive as we get further into 2022 and into 2023."
However, Bill Bullard, chief executive officer of
Ranchers-Cattlemen Action Legal Fund United Stockgrowers of America
— a nonprofit organization dedicated to being a voice for U.S. cattle and sheep farmers — has been studying the market trends for years, including shifts in beef and cattle prices. "In 2021, (cattle producers) received a lower price than what they received a decade ago in 2012," Bullard says. If the market isn't corrected, he says, consumers will continue to pay for beef at inflated prices and America will continue to lose cattle farmers at an alarming rate.

Looking to the future, farmers are hoping for two main policy adjustments: the revival of mandatory Country-of-Origin Labeling, which requires stores disclose where meat is from, and better reinforcement of the Packers and Stockyards Act. This act protects cattle, poultry and hog farmers from "unfair, deceptive and anti-competitive practices in the meat markets," according to the U.S. Department of Agriculture. Government regulators "have looked the other way for many, many years rather than aggressively enforce our antitrust laws and the Packers and Stockyards Act," Bullard says.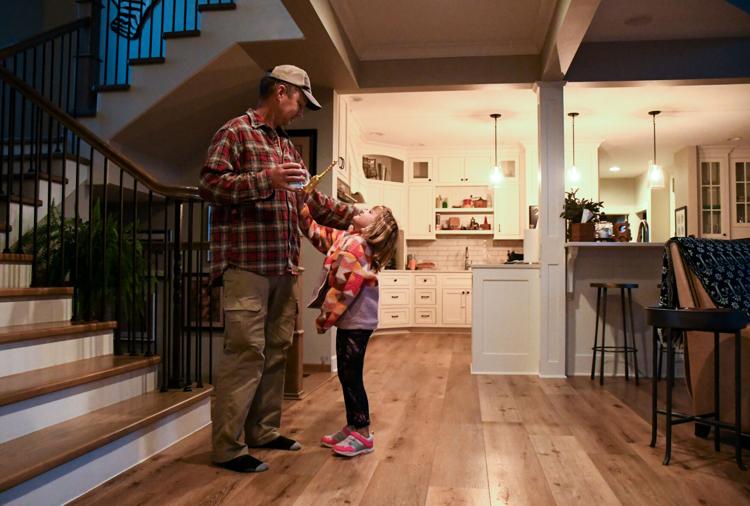 Family Farming
Since buying his first farm as a teenager, Thomas has built a life in Trenton, purchasing more properties in the area, building a house with his wife and farming with his dad and uncle. With three young kids, ages 2, 7 and 8, Thomas is concerned about what the future of farming will look like for them. He hopes they take over the family farm and join in the rural lifestyle the Thomases have enjoyed. "I think it's a very serious deal that I give my kids the same opportunity that I've been given," he says.
Every morning, as Thomas tends to his animals and farm, he reflects on the hard work he and the generations before him have done, hoping the American cattle industry can be salvaged. "A lot of people are worn out with it," he says.
By Vox Magazine