Read the original article by Melissa Lemieux at newsweek.com here.
New Iditarod CEO Rob Urbach has announced that he plans to meet with the animal rights organization People for the Ethical Treatment of Animals (PETA), which has been highly critical of the dogsled race before, and devoted to ending its annual occurrence.
Previous CEOs have ignored PETA or condemned its attempts at getting the race permanently cancelled, a plan Urbach has announced he's going to change, according to the Associated Press. He will meet with PETA's Executive Vice President Tracy Reiman on Thursday at her location's Los Angeles offices.
Reiman told the Associated Press that she hopes to explain to Urback the difference between "the needs and behavior of dogs and those of humans". However, Urbach said that he hopes they will be able to foster common ground between them by explaining the treatment of the dogs during the race.
PETA published an article about the race on its website on October 9 that criticized the Iditarod for overworking the dogs in harsh conditions, for its alleged promotion of animal abuse and accusing the race of causing the death of multiple animals due to overwork and stress.
PETA also accused Iditarod organizers of denying the animals veterinary care and confining them in outdoor lots. The 2016 documentary Sled Dogs and articles by Alaska Public Radio and the Washington Post added accusations of doping to the mix. Under pressure from PETA and other organizations, the race's main sponsor, Wells Fargo, pulled out in 2017.
Previous CEOS have blamed PETA for the bad publicity.
"There is no doubt that the decision announced earlier this week is directly related to the manipulative misinformation that PETA and others have been using to target our sponsors at their corporate headquarters outside Alaska," wrote Iditarod Chief Executive Stan Hooley in May 2017, as quoted in Rolling Stone.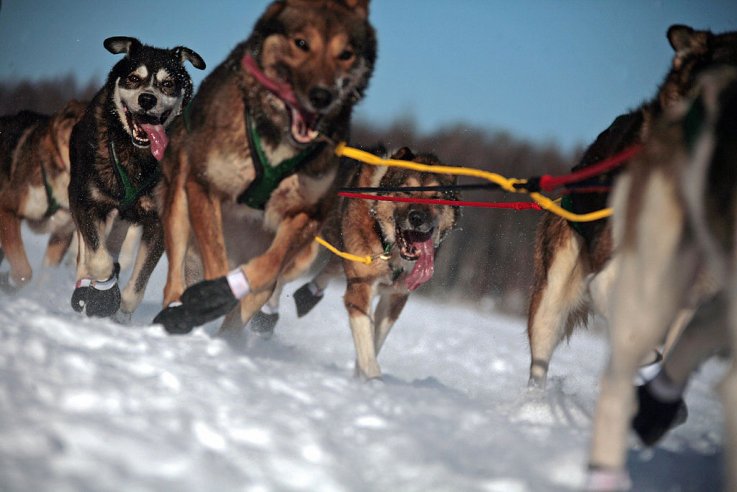 Iditarod organizers have categorically denied these accusations on a routine basis, saying that all animals receive veterinary care while running the race and that it's neither cruel or harmful to the animals who run it in the long term.
In 2018's race, one dog, Blondie, passed away of pneumonia, according to Rolling Stone.
The Iditarod is a 998-mile dogsled race that spans from Anchorage to Nome, Alaska, and takes sledders and their team of dogs across miles of mountainous terrain and frozen lakes. It was created to play tribute to the Alaskan Gold Rush of the 1800s.