Read the original article by Terry Spencer at foxnews.com here.
Florida voters decided to phase out greyhound racing in the state by 2021, meaning thousands of dogs will soon need new homes.
The state voted 69 to 31 percent Tuesday to pass Amendment 13, which bans the sport beginning on Jan. 1, 2021. It is an overwhelming defeat for an industry already in decline, with 50 tracks closing nationally over the past 30 years because of shrinking crowds and accusations that dogs are mistreated.
Advocates for the ban say many of Florida's 8,000 racing dogs will now likely be adopted, as usually happens when they leave the sport, though some may be transferred to other states where the sport will remain legal.
Florida's 11 dog tracks constitute almost two-thirds of those remaining nationally. When they close, the sport may be too small to survive long term. Two tracks remain in West Virginia and one each in Alabama, Arkansas and Iowa. In Texas, three tracks rotate an annual meet.
Carey Theil, executive director of Grey2K USA, one of the groups pushing for a nationwide ban, called the margin "astounding" and said it was one of the largest ever nationally for any animal rights measure. Amendment 13 even got majorities in 10 of the 11 counties where racing is held — in five of those, support exceeded 70 percent.
"It's a powerful endorsement of our humane values, and a repudiation of an industry that is cruel and inhumane," Theil said Wednesday. He said the state should provide resources for any workers who lose jobs because of the ban, including retraining.
Jim Gartland, executive director of the National Greyhound Association, said he was surprised by the amendment's passage — it needed 60 percent, under Florida law. He said hundreds of greyhound breeders and their employees nationally will be hurt by the Florida decision, and accused the amendment's backers of "lying" and giving "misleading facts and figures" when they said dogs are abused. State records show that, on average, two of the state's racing dogs die of injury or illness weekly.
"It makes no sense that people who make their livelihoods from dogs would abuse them," Gartland said. Abused dogs are slow dogs, he said, and trainers make their living by producing winners. He said it is unclear how many Florida tracks will keep live racing through 2020 and how many will drop the sport sooner.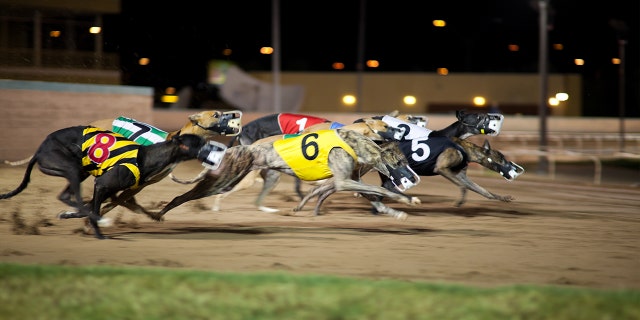 Jack Cory, spokesman for the Florida Greyhound Association, said tracks and trainers will go to the Legislature and, if necessary, to the courts to be compensated for the revenue they will lose.
Backers spent more than $3 million getting the measure adopted — 10 times the amount spent by racing supporters. Almost half the backers' funding came from a $1.5 million donation by the Doris Day Animal League, a national group founded by the 96-year-old actress.
The anti-racing movement had support from across the political spectrum, from animal rights groups like People for the Ethical Treatment of Animals to Republican Gov. Rick Scott.
Amendment 13's opponents included the National Rifle Association's state affiliate, which thinks the measure's language saying "the humane treatment of animals is a fundamental value" of Floridians could be a backdoor way to eventually ban hunting and fishing. The state Supreme Court rejected that argument during the opponents' failed effort to remove the amendment from the ballot.
For some tracks, losing live racing might actually increase profits. Under current Florida law, greyhound tracks must offer live racing to operate poker rooms and accept wagers on simulcast horse racing from tracks across the country. Amendment 13 allows them to keep those side businesses without live racing, even if they drop it immediately.
The amount wagered on greyhound racing in Florida decreased from $1.5 billion in 1992, adjusted for inflation, to just over $200 million in 2017, state records show. After paying bettors, purses and taxes, five tracks reported losses on live greyhound racing last year and the then-12 tracks combined net revenue on live racing was $20 million. That's about a fifth their poker net.
Jim O'Brien, president and CEO of Melbourne Greyhound Park, said his small track near the Kennedy Space Center loses about $250,000 annually on live racing, but he feels loyalty to the trainers who run dogs there. So he said he wants to take a few days to decide whether to run the track's upcoming meet. The track made $5 million last year on poker.
"We are probably going to run, but we will see," he said.