Bikini-clad vegan protesters have staged a bloody demonstration in support of their cause – by lying down in Trafalgar Square pretending to be packaged meat.
The women drew crowds at the weekend when they stripped down and covered themselves in fake blood in a protest against 'speciesism' – which they say is an ideology which considers animal lives unworthy of respect because they are another species.
The protestors – who belong to a group called Direct Action Everywhere– lay in a large tray covered in plastic 'wrapping' with fake blood daubed across their bodies.
Other protesters held signs nearby with slogans such as: "It's not food, it's violence".
One woman told video news agency Ruptly: "We as vegans want to show other people there's a compassionate way to live and how to treat animals.
"We want to stop this animal cruelty, we want to stop the meat trade, the fur trade, the leather trade, and we want to show people there's a way of living without animal products."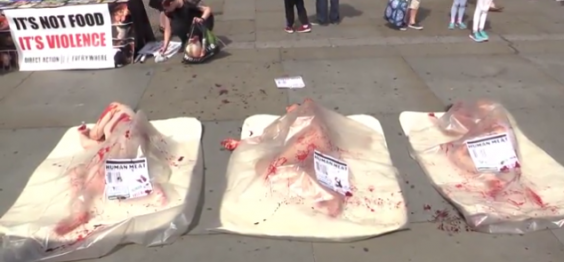 She said that there are significant health benefits from going vegan, as well as the opportunity to dramatically reduce animal suffering.
She added: "Some people might do it for the environment when they realise meat eating and animal agriculture is the number one cause of pollution in the world."
Co-ordinated protests were carried out in Brazil, Canada, Germany, Peru and the US.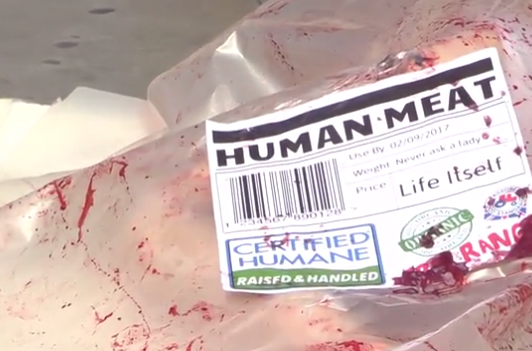 Studies into the health benefits of moving to a vegetarian or vegan diet are conflicting.
Within the past month alone, vegan diets have been linked to lower levels of cholesterol.
However another recent study found that – in an all-male sample group – symptoms of depression were more common for self-proclaimed vegetarians or vegans.
It is thought to be because of a lack of vitamin B12 in vegetarian or vegan diets – which is essential for producing brain chemicals that influence mood.
Read the original article here.